by March,13,2023
168 comments
2091 Views
| | | | |
| --- | --- | --- | --- |
| JEE Prep Courses | Duration | Level | Course Detail |
| JEE 1-Year Coaching Classes | 480 Hours | For 12th Class Students | |
| JEE 2-Year Coaching Classes | 704 Hours | For 11th Class Students | |
| JEE Foundation Course | 390 Hours | For 6th,7th,8th,9th & 10th Class Students | |
| JEE Main Test Series | 3 Hr/Test | For 11th & 12th Class Students | |
| JEE Main DLP | Upon Enquiry | Grade 11th / 12th | |
| JEE Main Crash Course | Upon Enquiry | Grade 12th | |
Are you from Gulf Country and Planning to get admission under NRI Quota? Do you want a perfect JEE Percentile to get admission to premium Engineering Institutes like NIT and IIITs? TestprepKart follows a different pedagogy to prepare NRI Students for Engineering Entrance Exam which is different from other Indian students.
JEE Online Coaching Class Batches for 9th, 10th, 11th & 12th are specially designed for NRI Students who are living in the gulf countries (UAE, Saudi Arabia, Oman, Kuwait, Qatar, or Bahrain) with a maximum of 15-20 Students in each batch.
Different JEE Online Courses Offered by TestprepKart For NRI Students
Testprepkart provides you with a variety of courses for JEE Main and Advanced according to students' and parents' preferences.
JEE 1-Year Coaching Program:- If you are in grade 12th then this is the ideal program for you under the experience expert faculty for preparing to jee main.
JEE 2-Year Coaching Program:- This is a comprehensive program for all engineering students to prepare for JEE Main and Advanced along with their Boards Exam.
JEE Main Foundation Course:- The foundation course help students to build a chain towards the JEE Main from class 8, 9, or 10. This course help students to develop a strong mindset for the entrance exam.
JEE Crash Course:- This is an advanced course for those students to help in revision and clears all concepts and doubts for JEE Main.
Select your ideal JEE Online Course. For any clarification, write to us at info@testprepkart.com.
Get JEE Prep Help Download DASA E-BOOK
All the above-mentioned online JEE Main Online Courses are completely live and interactive with a special focus on improving marks in Physics, Chemistry & Mathematics, especially for NRI Students looking for NIT, SPAs, and CFTI admissions under DASA / CIWG Quota.
How TestprepKart Help For JEE Entrance Exam?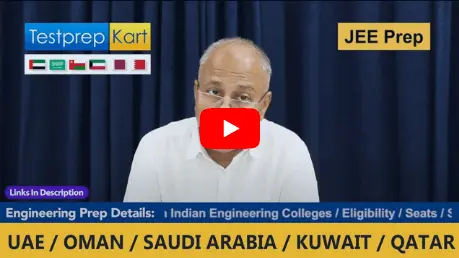 TestprepKart Online JEE Coaching has become so popular in the past few years for NRI students because of the results of the NRI students.
Nowadays, students are considering JEE Coaching Online because it is now the smarter way to study and prepare for the JEE Main as it saves a lot of time and money for students that they would have spent on offline coaching.
TestprepKart JEE Coaching Classes Features:
JEE (Joint Entrance Examination) is one of the most competitive entrance exams in India. TestprepKart JEE Online Course is designed exclusively for NRIs & Indian students studying science and mathematics from Class 6th to Class 12th students in Middle East Countries (Muscat, Jeddah, Riyadh, Dubai, Abu Dhabi, Kuwait, Bahrain..etc).
Many students opt for online coaching to prepare for this exam. Here are some features of JEE online coaching:
Live Classes:
Online coaching provides live classes with expert teachers. These classes are interactive and allow students to clear their doubts in real-time.
Recorded Classes:
Online coaching also provides recorded classes that students can access at any time. These classes can be watched multiple times, which helps in better understanding of the concepts.
Study Material:
Online coaching provides study material in the form of eBooks, notes, and practice papers. These materials are designed to help students understand the concepts and improve their problem-solving skills.
Mock Tests:
Mock tests are an integral part of JEE preparation. Online coaching provides mock tests that simulate the actual exam pattern. These tests help students to understand their strengths and weaknesses and improve their performance.
Personalized Attention:
Online coaching provides personalized attention to students. Students can interact with the teachers and get their doubts cleared. They can also get feedback on their performance and work on improving their weaknesses.
Time-Saving:
Online coaching saves time and money as students do not have to travel to attend classes. They can study from the comfort of their homes and save time on commuting.
Flexibility:
Online coaching provides flexibility in terms of class timings and study schedules. Students can choose the classes that suit their schedule and study at their own pace.
Doubt Clearing Sessions:
Online coaching provides doubt clearing sessions where students can ask their doubts and get them cleared by expert teachers.
Performance Analysis:
Online coaching provides performance analysis reports that help students to track their progress and work on improving their weaknesses.
Overall, JEE online coaching provides a comprehensive and flexible approach to prepare for the JEE exam.

TestprepKart's Expert JEE Faculties To Help You Succeed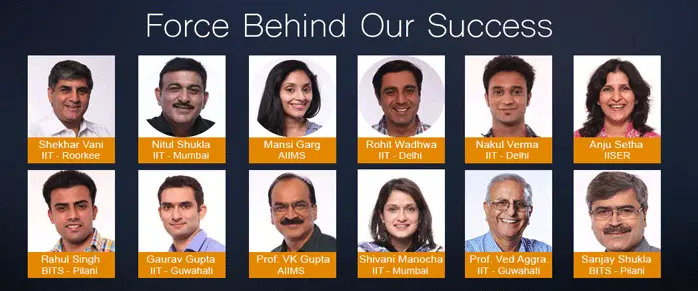 Testprepkart's JEE Online Coaching Toppers Parents From Middle East:
Watch the JEE Main Online Coaching Result from Riyadh and Oman Parent's Reaction to there child & How did the child secure a good jee rank.
Testprepkart's JEE Online Coaching Perfect Scorer from Middle East:
At TestprepKart we feel satisfied having worked closely with students and parents toward achieving a common objective of a Great JEE Score and Selection in the top prestigious colleges in India.
Here is what our students speak about JEE Coaching at TestprepKart. Below we are mentioning our JEE toppers & JEE perfect scorer from middle east countries.
JEE Main Last Year Toppers From TestprepKart

Get JEE Prep Help Download NRI DASA/CIWG Ebook
DASA CIWG Ebook for NRI Students
For DASA and CIWG Candidates here is the Ebook for all the students. Download the Ebook in pdf format through the given link.
Important Links for JEE Main Examination
FAQ's on JEE Main Online Coaching
Question 1: Which Online Coaching Institute is best for NRIs students?
Answer: TestprepKart is the best online coaching institute for NRIs students with a success rate of 93% for NRI students.
Question 2: Are online coaching classes helpful enough for NRI students to crack the JEE?
Answer: Yes, and not just for NRIs students any aspirants who focus and are serious and follow all instructions from faculty can crack jee main with online coaching.
Question 3: Is Testprepkart offer free coaching classes?
Answer: No. Testprepkart is not offering free coaching classes but yes, we offer to jee online coaching program at an affordable price with hard and soft copies of all necessary jee study materials.
Question 4: Which is the best 1-year or 2-year jee online coaching?
Answer: If you are in grade 11th then you can choose 2-year to jee coaching program for a deep understanding of all concepts along with your board's preparation and if you are in grade 12th then you have the option to choose 1 year of coaching for jee main.
Question 5: Which are the best Free IIT JEE Coaching in Dubai?
Answer: There is no such FREE IIT JEE Coaching Institute in Dubai, you may get free study materials for download but if you looking for proper guidance from top faculty without any cost then it's difficult.
Question 6: Can NRI Students give JEE Main?
Answer: Yes, NRI Candidates can attempt JEE Main, and also they can get admission through DASA Quota.
Question 7: Can NRI Students from UAE and Saudi get directly apply for the IITs?
Answer: No, NRI Candidates cannot apply directly for IITs, they have to give JEE Main first and if they qualify then they can attempt for JEE Advanced through which they get IITs. Only OCI and FN students can directly apply for JEE Advanced without giving JEE Main.
Question 8: What is the eligibility criteria for JEE?
Answer: The eligibility criteria for JEE Main and JEE Advanced differ slightly. To be eligible for JEE Main, a candidate must have passed their 10+2 examination or equivalent with Physics, Chemistry, and Mathematics as compulsory subjects. To be eligible for JEE Advanced, a candidate must be among the top 2.5 lakh candidates in JEE Main and must have secured at least 75% aggregate marks (65% for SC/ST/PwD) in their 10+2 examination.
Question 9: What is online JEE coaching?
Answer: Online JEE coaching is a type of coaching that is conducted through the internet. It involves live classes, video lectures, doubt-solving sessions, and practice tests that can be accessed by students from the comfort of their homes.
Question 10: Can NRI Students get admission under Genedral Quota?
Answer: No, NRI Students can apply only under NRI Category which is DASA Scheme and not in general quota.
Question 11: What is the yearly fee for DASA Students for B. GTech students?
Answer: The fee for DASA SAARC Students is 2000 USD & for DASA NON-SAARC Students is 4000 USD per semester.