by March,14,2023
27 comments
2117 Views
Why Join IIT JEE Coaching From Class 10
JEE Foundation Course bridge the gap between theoretical to practical knowledge. A successful IIT JEE preparation requires time, hard work, and proper guidance with consistency. If students start JEE preparation in class 10, then they have 3 years in hand to prepare well for JEE and JEE Advanced.
JEE Foundation Coaching programmes also help you to crack entrance examinations like JEE , KVPY, NTSE, and Various Other National and International Olympiads.
IIT JEE Foundation Course Help DASA/CIWG E-BOOK
IIT JEE Foundation Courses For NRIs and Indian Students:
Indian & NRI students who want to crack IIT-JEE , and KVPY exams can join an online course. TestprepKart offers you the best IIT JEE / JEE foundation courses are designed by a team of experts for classes 9th and 10th class.
JEE Foundation Prep Help DASA/CIWG E-BOOK
IIT JEE Foundation Course For 10th Class:
| | |
| --- | --- |
| Target | CBSE - PCMB / NTSE / Olympiads |
| Class | IX & X |
| Course Name | CR Batch |
| Course Code | CR Batch |
| Eligibility | Class 9th to 10th studying / Appearing |
| Who Should Join | Class 9th to 10th studying / Appearing |
| Medium of Studies | English |
| Course Commencement | Classes are ongoing |
| Course Ends | As per the detailed Milestone Chart |
| Course taught for | CBSE class 10th - PCMB / NTSE / Olympiads |
Book a Free IIT JEE Demo Session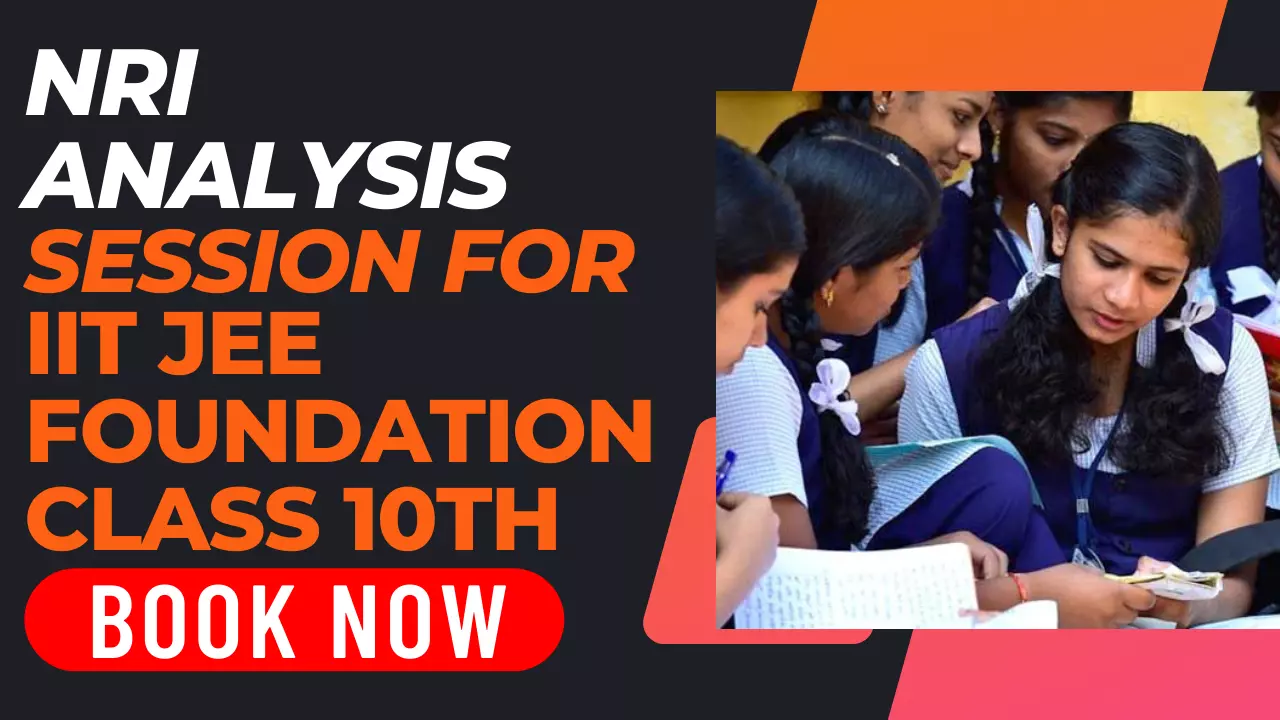 Book a Free Class for 10 Grade
What is the Best Time Table for IIT JEE Aspirant?
Time Table plays a very crucial role in IIT JEE preparation, to achieve any goal you need to be consistent towards your goal. Class 10th is the ideal time to get start your preparation for IIT JEE. The reason is the ample amount of time left with you to prepare for your class 12th and JEE .
Topics Cover in IIT JEE Foundation Course:
IIT JEE Mathematics Syllabus:
| | | |
| --- | --- | --- |
| Unit No. | Unit Name | Marks |
| 01 | Number Systems | 06 |
| 02 | Algebra | 20 |
| 03 | Coordinate Geometry | 06 |
| 04 | Geometry | 15 |
| 05 | Trigonometry | 12 |
| 06 | Menstruation | 10 |
| 07 | Statistics & Probability | 11 |
| | Total | 80 |
IIT JEE Science Syllabus:
| | | | |
| --- | --- | --- | --- |
| Unit No. | Unit | Marks | Periods |
| 01 | Chemical Substances – Nature and Behavior | 25 | 55 |
| 02 | World of Living | 23 | 50 |
| 03 | Natural Phenomena | 12 | 23 |
| 04 | Effects of Current | 13 | 32 |
| 05 | Natural Resources | 07 | 20 |
| | Total | 80 | |
| | Internal Assessment | 20 | |
| | Grand Total | 100 | |
IIT JEE Class 10 Brochure - Key To Success
What is the Best Option To Prepare For IIT JEE From Class 10?
Right Guidance Through Expert:- You don't become an expert in your preparation until you get the right guidance, the guidance of your parent's senior teachers who know about IIT JEE, you can ask them how they crack their JEE paper and what they follow. Even you can choose one of the best options IIT JEE Preparation Coaching where you will find the best faculty from IITs and NITs who are best known in their field they can help you out in any situation and provide you finest materials.
How To Start Preparing For IIT JEE From Class 10?
IIT JEE Preparation leads the road to success and it requires a certain strategy. To aim for a seat in the finest institutes like IITs, NITs, IIITs, and GFTIs, the first step would be to look at how to prepare for JEE . A clear study plan is a key to success in any exam especially JEE which happens to be the largest UG engineering exam.
JEE is a competitive exam. Every year millions of students write this exam to get into the best Engineering Institutions. You have 2 options for preparation for IIT JEE from class 10th. The first is through self-study and the other is with the help of Online Coaching.
IIT JEE Preparation through Self Study:-
This is not important to take JEE Coaching but, many students need to clear their concepts and doubts. If you are capable to study the whole syllabus of JEE on your own then it is good. First, you need to clear all your basic concepts. And you utilize 7 days for revising and practicing.
Preparation Materials Required for Study
IIT JEE Preparation Books:-
While NCERT books are good to strengthen your base, it's advisable to move to specialized books on JEE . Over the years some of the reference books have become prevalent on account of the tips given in them, practice exercises that are given at the end of the chapter, and the in-depth knowledge that is necessary to crack IIT JEE .
IIT JEE Past Year Paper with Solution:-
IIT JEE Past Year Topic Wise Questions Paper and Solution PDF are one of the high-demand study materials that carry a collection of the previous 10 years of JEE questions & answers and cover all patterns of examination.
IIT JEE Sample Papers:-
IIT JEE sample paper for Physics/Chemistry & Mathematics. These JEE Sample Papers are a combination of jee advanced sample papers and jee mock tests. And this is one of the best assets for JEE Preparation.
TestprepKart's IIT JEE Veterans:
With phenomenal experience and great teaching experience of over a decade or more, our JEE Tutors (in various cities of Dubai, Abu Dhabi, Al Khobar, Muscat, Sohar, Riyadh, Jubail, Singapore, Malaysia & more) make sure you Rank high enough in your JEE for first-timers and subsequently improve to the desired JEE Rank for your college selection.
TestprepKart's JEE Perfect Scorer:
At TestprepKart we feel satisfied having worked closely with students and parents toward achieving a common objective of a Great JEE Score and Selection in top prestigious colleges in India.
Here is what our students speak about JEE Coaching at TestprepKart. Below we are mentioning our JEE toppers & JEE perfect scorer from the middle east countries.

Highlights of IIT JEE Foundation Course
IIT JEE Foundation classes are designed to prepare students for the Joint Entrance Examination (JEE) - one of the most competitive entrance exams for admission into undergraduate engineering programs in India. The following are some highlights of IIT JEE Foundation Classes:
Strong Foundation: The classes aim to build a strong foundation in mathematics, physics, and chemistry - the three core subjects that are tested in the JEE exam.
Expert Faculty: IIT JEE Foundation classes are taught by experienced and qualified faculty members who have a deep understanding of the JEE exam pattern and syllabus.
Comprehensive Study Material: Students are provided with comprehensive study material that covers the entire JEE syllabus, along with practice questions and mock tests to help them prepare effectively.
Personalized Attention: In many cases, the classes have small batch sizes, which allows for personalized attention and a more interactive learning environment.
Doubt Clearing Sessions: Regular doubt clearing sessions are conducted to help students clarify their doubts and strengthen their understanding of difficult concepts.
Regular Assessments: Regular assessments are conducted to track the progress of students and identify areas where they need more practice.
Motivational Workshops: IIT JEE Foundation classes often include motivational workshops that help students develop a positive mindset and overcome exam-related stress and anxiety.
Overall, IIT JEE Foundation classes provide students with the necessary skills and knowledge to excel in the JEE exam and secure admission into top engineering colleges in India.
Know About Class 10 Olympiad Exams
Olympiad exams are the competitive exams held at a national and international level for the students of Classes 1-12. It is one of the toughest exams to crack for the school students whether it is a national or international olympiad.
This exam helps students to gain a competitive edge from a young age and helps them to compare their skills and knowledge with other students. Olympiads toppers are offered scholarships and awards & they are also offered a chance to apply for high course study as they have been given a competitive edge over other students.
INTERNATIONAL OLYMPIADS FOR CLASS 10TH STUDENTS

List of Class 10th Must Give Olympiads Exam
National Talent Search Examination or NTSE:
The national level exam cum scholarship program is one of the most prestigious competitive exams for 10th class students. The primary objective of NTSE is to recognize students with strong academic abilities and outstanding intellectual abilities.
Subjects: Science, Mathematics, Social Science, Mental Ability, and General Awareness
Conducting Body: National Council of Educational Research and Training (NCERT)
National Interactive Maths Olympiad or NIMO:
With a view to eliminating the fear of math from students 'minds, this national exam is for students in classes V to XII. It tests their analytical ability and their intellectual skills.
NIMO is dedicated to making math more enjoyable by incorporating educational programs such as virtual Olympiads, workshops, and seminars.
Subjects: Mathematics.
National Biotechnology Olympiad or NBO:
The particular exam consists of 50 questions for 50 marks and requires candidates from all streams to participate. In addition to annual e-newspapers, its Biotechno Activity Books & Job Books have been widely valued by students.
It wants to encourage the younger generation to develop their knowledge of Biotechnology issues and raise awareness of them.
Subjects: Mathematics
Conducting Body: Eduheal foundation
Asset (Assessment of Scholastic Skills Through Educational Testing):
A scientifically designed, skill-based evaluation test, breaks free from the idea of rote learning. Meaning for Class III-X pupils tests how well children understand the underlying school curriculum These exams are based on the curriculum of the CBSE, ICSE, CIGSE, and the major state boards.
Subjects: English, Mathematics, and Science (Social Studies and Hindi – Optional)
Conducting Body: Educational Initiatives Pvt. Ltd.
Kishore Vigyan Protsahan Yojana or KVPY:
It is a national competitive examination in basic sciences administered by the Department of Science and Technology for students of classes XI and XII. The selected Indian & NRI students would be eligible for admission to the five-year integrated MS program at the Indian Institute for Science and Research.
The goal of the program is to recognize students with talent and study skills.
Conducted Body (funded by): Department of Science and Technology of the Government of India.
Possible Entrance examination You can Plan For:
It is likely that the best institutions will select the applicants by a reasonable way of evaluating the potential and worthiness of each applicant without favoritism and cultural influences.
If you are in the 10th class you have enough time to prepare for the entrance exam. Indian and NRI students can prepare for below national level examinations:
Joint Entrance Exam or JEE

National Eligibility cum Entrance Test NEET

National Talent Search Examination or NTSE

National Interactive Maths Olympiad or NIMO

Asset (Assessment of Scholastic Skills Through Educational Testing)

Kishore Vigyan Protsahan Yojana or KVPY
Join Us on WhatsApp
FAQs on Grade 10th Online Coaching
Question 1: What is IIT JEE Foundation Course?
Answer: IIT JEE Foundation Course is a starting point for all JEE Aspirants. It builds a gap between theoretical knowledge to practical knowledge.
Question 2: I am in class 10 now. What should I do to crack the JEE?
Answer: If you want to crack IIT JEE then just focus first on your grade 10 exams first. Before starting JEE Preparation your basic concept must be clear.
Question 3: How do I prepare for an IIT from class 10th?
Answer: Start developing skills with complicated and hard problems, develop speed and precision, download the syllabus of JEE and look at it carefully. Start focusing on the PCM Syllabus for a grade 10.
Question 4: Which is the best IIT JEE foundation book for the 10th class?
Answer: IIT Foundation and Olympiad, Pearson IIT Foundation Series, S. Chand IIT JEE Foundation Mathematics, are some of the best books to start your journey for IIT JEE.
Question 5: Which is the best coaching institute in Dubai for IIT-JEE?
Answer: TestprepKart is the Leading online Coaching Institute in Dubai and all Middle East Country Region for all the NRI/OCI and PIO students.
Question 6: What is the aim of the JEE Foundation Course?
Answer: To build a strong foundation in core subjects.
Question 7: Who teaches the JEE Foundation Course?
Answer: Experienced and qualified faculty members.
Question 9: What does the JEE Foundation Course study material include?
Answer: Comprehensive study material covering the entire JEE syllabus and practice questions.
Question 10: What is the benefit of small batch sizes in JEE Foundation Classes?
Answer: Personalized attention.
Question 11: What is the purpose of regular assessments in JEE Foundation Classes?
Answer: To track the progress of students.