by October,09,2023
0 comments
6694 Views
Why Join IIT JEE Main Coaching From Class 12
Nothing is too late, if you start JEE Prep in class 12th, It would be a good move to score good marks in JEE Main. To score a good score in the JEE exam in your preparation from the 12th class itself is a very good step. When you do more work hard and sincerely on it, there is no question that you will definitely pass JEE Main and Advance with flying colors. You are supposed to have a strong base and a good understanding of the basics, so now is a perfect time to start the preparation.
Get Class 12 Prep Help Download IIT-JEE E-BOOK
| | | | |
| --- | --- | --- | --- |
| JEE Prep Courses For 12th | JEE Prep Course Duration | JEE Prep Course Level | JEE Prep Course Details |
| JEE Preparation Online Course | 1 Year (886 Hours) | 12th & 12th Passed | |
| JEE Online Classes for Class 12th | 1 Year (980 Hours) | 12th & 12th Passed | |
IIT JEE Main Online Course Details For 12th Class:
| | |
| --- | --- |
| JEE 1 Year Prep Course: | JEE 1-Year Course Description: |
| Total No. of Course Hrs.: | 628 Hours |
| Course Focus On: | JEE + SAT + BITSAT + CBSE (PCM) - Grade 12th |
| Concepts & Consolidation: | 480 Hours |
| Doubt Removal Sessions: | 120 Hours |
| Live Strategy Session: | 12 Hours |
| Online Test Series: | 185 Hours |
The best option to prepare for IIT JEE from Class 12
Preparing for IIT JEE from Class 12 can be challenging, as it requires a lot of dedication and hard work. Here are some of the best options to prepare for IIT JEE from Class 12:
Joining an online coaching institute can be one of the best options to prepare for IIT JEE from Class 12. These institutes have experienced faculty members, comprehensive study material, and regular tests and assessments to help students prepare effectively for the exam.
Book a Free IIT JEE Demo Session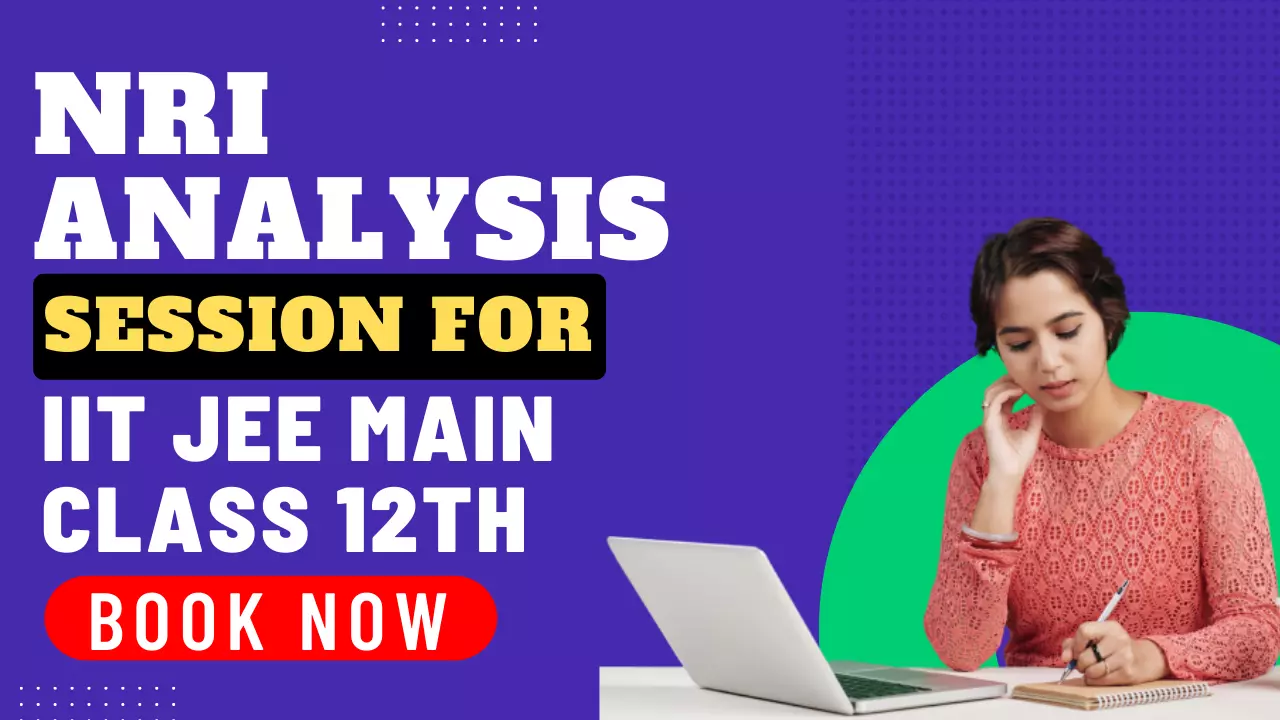 How To Start Preparing For IIT JEE Main From Class 12?
IIT JEE Preparation leads the road to success and it requires a certain strategy. To aim for a seat in the finest institutes like IITs, NITs, IIITs, and GFTIs, the first step would be to look at how to prepare for JEE Main. A clear study plan is key to success in any exam especially JEE Main which happens to be the largest UG engineering exam.
JEE is a competitive exam where every year millions of students write this exam to get into the best Engineering Institutions. You have 2 options for preparation for IIT JEE Main from class 12th. The first is through self-study and the other is with the help of Online Coaching.
IIT JEE Preparation through Self-Study
Self-Study: Self-study is an effective option for students who prefer to study on their own. Students can make use of online resources, textbooks, and reference books to prepare for the exam. They can also solve previous year's question papers and practice exercises to improve their test-taking skills.
Group Study: Group study can be an effective option for students who prefer to study with their peers. Students can form a study group with their classmates and study together, exchange notes, and clarify doubts.
Take Mock Tests: Taking mock tests is an essential part of preparing for IIT JEE. Mock tests help students to assess their knowledge and identify areas that require more attention.
Time Management: Time management is crucial for students preparing for IIT JEE from Class 12. Students should create a study schedule that allocates sufficient time for each subject and topic.
Stay Motivated: Preparing for IIT JEE can be stressful, and it is important for students to stay motivated throughout the preparation process. They can stay motivated by setting realistic goals, rewarding themselves for achievements, and seeking support from family and friends.
Overall, the best option to prepare for IIT JEE from Class 12 depends on the individual student's preferences and learning style. Students should choose an option that works best for them and stay committed to their preparation to achieve their desired score.
Preparation Materials Required for Study
IIT JEE Preparation Books:-
While NCERT books are good to strengthen your base, it's advisable to move to specialized books on JEE Main. Over the years some of the reference books have become prevalent on account of the tips given in them, practice exercises that are given at the end of the chapter, and the in-depth knowledge that is necessary to crack IIT JEE Main.
IIT JEE Past Year Paper with Solution:-
IIT JEE Main Past Year Topic Wise Questions Paper and Solution PDF are one of the high-demand study materials that carry a collection of the previous 10 years of JEE questions & answers and cover all patterns of examination.
IIT JEE Main Sample Papers:-
IIT JEE Main sample paper for Physics/Chemistry & Mathematics. These JEE Sample Papers are a combination of jee advanced sample papers and jee main mock tests. And this is one of the best assets for JEE Preparation.
What is the Best Time Table for IIT JEE Aspirant?
Time Table plays a very crucial role in IIT JEE preparation, to achieve any goal you need to be consistent towards your goal. Class 12th is the ideal time to get start your preparation for IIT JEE. The reason is the ample amount of time left with you to prepare for your class 12th and JEE Main.
IIT JEE Prep Course For 12th Class Features
This JEE (Main & Advanced) course is designed exclusively for students studying science and mathematics from Class 12.
These subjects are taught by ex-IITians who are experienced in their domain knowledge. The purpose of this program is to improve the intellectual ability of JEE students.
1. JEE Course Taught by the Ex-IITians:
IITians are considered to be the best brains in the world. They will draw out of you the potential IITian. TPK is a community of more than 30 ex-IITs. Every ex-IITian has at least 6 to 9 years of experience and is a true teacher's material.
2. JEE Online Live & Interactive Real-Time Classes
The JEE Online classes are fully live and interactive. Indian & NRI students will see what the teachers write on the whiteboard (the computer screen acts as a white board), hear what the teachers talk about and communicate with him or them, and ask questions at any time during the session. Students can see their teachers too.
3. JEE Online Coaching Class Timings For Class 12th
The JEE coaching classes shall be conducted after/during school hours. as per the convenience of the student. The live & interactive classes will take place five days a week.
4. JEE Special Classes / Doubt Removal Sessions
If a student is weak in a specific topic area or sub-topics, special classes will be provided as per their convenience of timing. Doubt removal classes are part of the whole program. It takes place after every topic is taught and every test is conducted.
5. Recordings of All the JEE Classes
All sessions are recorded and maintained in the student's account. Even if a student has missed a session, he or she will replay the recordings and come to par.
6. Personalized Mentoring System
Each student gets a course coordinator, whether he or she is in batch mode or one-on-one mode. This makes students free to speak to the course coordinators directly about their issues.
7. Study Material
Each student will get online & offline study material. Online study material will be uploaded in students' accounts.
What are the topics covered in IIT JEE Main Class 12 Coaching?
IIT JEE Main Physics Syllabus
IIT JEE Main Chemistry Syllabus
IIT JEE Main Mathematics Syllabus
Possible Entrance examination You can Plan For:
NRI & Indian students who are now in class 12, can explore various career options and entrance examinations for higher education.
JEE Main

State Engineering Entrance Tests
JEE Main
JEE is an engineering entrance exam organized for admission to various engineering colleges in India. JEE Main is performed in two parts: JEE Main and JEE Advanced. The second section of the JEE Advanced exam is considered to be one of the most demanding undergraduate admission exams on an international level for NRI & Indian Students.
The first stage of JEE is JEE-Main and those NRI & Indian Students who qualify may appear for the JEE-Advanced Exam. NRI students who want to start their careers as an engineer can start JEE preparation in class 12th.
Premier institutes in India where Indian & NRI students can take admission after cracking JEE -
IITs
IITs are the most prominent institutions that offer the best Engineering courses in India. These are reputed groups equipped with courses such as undergraduate, postgraduate, and doctoral. There is No NRI Quota (DASA / CIWG Quota) available for NRI Students. They should clear JEE Main + Advanced as a normal Indian student to take admitted to IITs.
NITs
National Technology Institutes (NITs) are autonomous public higher education institutions based in India. NITs are also famous among NRI students.
The National Institute of Technology (NITs) is open to all types of students. Indian students & NRI students take JEE Main to get admission to NITs.
NRI / OCI / PIO students can avail NRI quota under DASA / CIWG Scheme to take admission to NITs.
CFTIs
CFTIs are the centrally funded institutions that offer the best engineering courses in India The Centrally Funded Technical Institutes (CFTIs) is open to all type of NRI & Indian students. Indian students & NRI students take JEE Main to get admission to NITs.
NRI / OCI / PIO students can avail NRI quota under DASA / CIWG Scheme to take admission to CFTIs.
FAQs for Best Coaching for Class 12th
Question 1: Does JEE Have NRI Quota?
Answer: Yes, JEE Has NRI Quota which is called DASA Scheme through which any NRI, OCI, and FN Candidate can take admitted.
Question 2: Can NRI Write JEE?
Answer: Yes, NRI Students can write JEE Main Entrance Exam if they fulfill the all eligibility criteria of the Exam.
Question 3: Which is the best coaching institute in Dubai for IIT-JEE?
Answer: TestprepKart is the Leading online Coaching Institute in Dubai and all Middle East Country Region for all the NRI/OCI and PIO students.
Question 4: How do I prepare for an IIT from class 12th?
Answer: Start developing skills with complicated and hard problems, develop speed and precision, download the syllabus of JEE and look at it carefully. Make sure all your basic concepts was clear. And you can also join Online IIT JEE Coaching for better performance and results.
Question 5: Which is the best IIT JEE Online Coaching for NRI Students?
Answer: TestprepKart is the best online IIT JEE online coaching institute for NRI students with a success rate of 93%.
Question 6: My son is studying 12th in India but he is an OCI holder. We shifted to India 5 years back from the UK. Is he eligible for the DASA quota in JEE 2023?
Answer: Yes, If your ward is an OCI Cardholder studying in India and wants to get admission through DASA Quota then he is eligible for the same. But, they need to show valid documents of the ward admission under the DASA Category.