by September,11,2020
5 comments
2685 Views
National Eligibility Cum Entrance Test (NEET) is a common entrance test for Medical School admissions such as MBBS and Bachelor of Dental Surgery (BDS) courses administered and regulated by CBSE Board. From this year Government of India had decided to combine all state level PMT exams to a single universal common entrance test for admission in medicine field named as NEET.
How TestprepKart's NEET Courses and Classes are beneficial for students in Kuwait (Jahra, Ahmadi, Farwaniyah, Al Asimah)?
TestprepKart hold a legacy to tutor students from various CBSE schools of Jahra, Ahmadi, Farwaniyah and Al Asimah (Kuwait) for NEET, AIIMS and much more medical entrance examination. Kuwait Consists of more than six lacs Indians and the natural phenomenon for many NRI parents working over there that their wards get admission in top medical colleges of India. Here comes the worry and distress for those NRI parents in Kuwait that where should their children would get the best coaching to crack exam like NEET which is considered as one of the toughest exam to clear.
For a competitive exam like NEET or AIIMS a strategic preparatory approach is highly needed. Students preparing for NEET or AIIMS need to plan their preparation schedule in a very effective and efficient way. TestprepKart provides customized preparation courses for each individual student after assessing the aptitude level of the candidate.
Challenges faced by NRI students in Ahmadi, Jahra, Farwaniyah etc. regarding NEET Coaching in Kuwait:
Lack of Proper Physical Coaching facilitating Institution in Kuwait.

Lack of Indian style of education / coaching facility for high stake exams like NEET / AIIMS.

Issues of travelling, due to distant location in the heart of desert seem hectic for students.

Due to scarcity of coaching facility in Kuwait coaching fees are much higher in comparison with Indian Coaching services.

Non-availability of faculties from elite medical bodies like AIIMS, AFMC and many more.
TestprepKart NEET Courses Provides:
Thorough NEET Preparation (Physics, Chemistry, Biology) to cover all the aspects of the course.

Completely personalized NEET preparation plan in order to maximize your score.

Classroom Recordings / Online Practice Test

Targeted preparation so that weakness is converted into strength.

Real Time – Live Online Classes for all subjects.

Best Subject Matter Experts to guide.

Comprehensive and updated study material.

In- depth analysis for each test conducted.

Free Doubt Removal Sessions.
NEET Preparation Courses in Kuwait
Understanding NEET examination and test structure deeply, we have created NEET Courses (Coaching Program) that will complement your NEET self-study at the same time. All NEET courses are live and interactive sessions, unlike the recordings. We still believe what you learn in face to face interaction can never happen with anything else and absolutely there is no substitute for it.
NEET Coaching Program available for NRI students in Kuwait:
NEET 1 Yr. Course | View Course Details
NEET 2 Yr. Course | View Course Details
NEET Foundation Course | View Course Details
NEET Online Test Series | View Course Details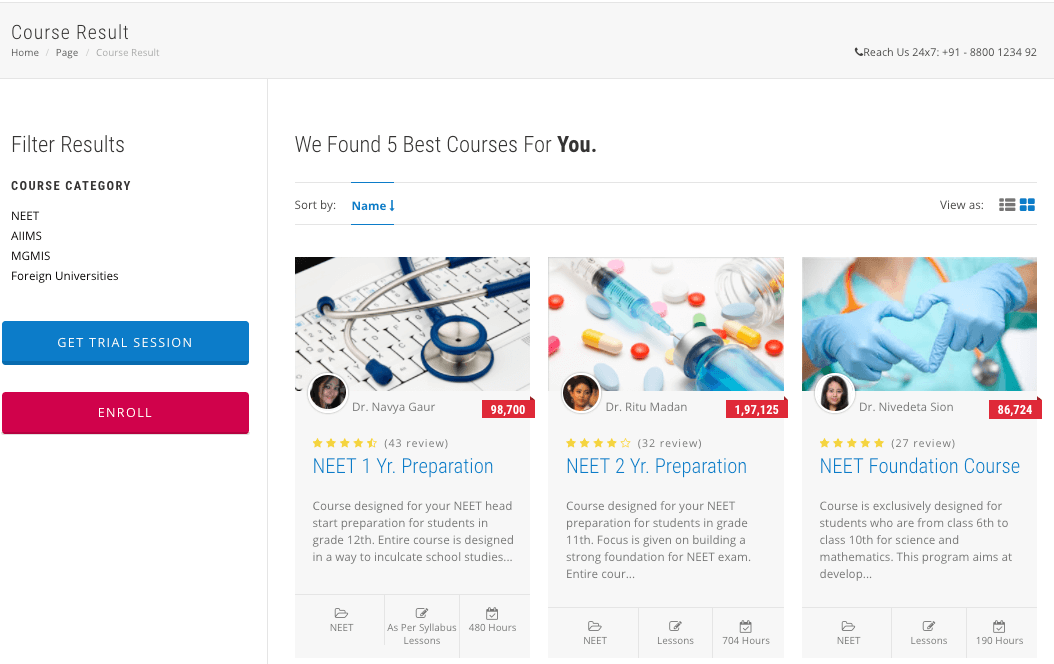 NEET Course Features Designed For NRIs In Kuwait
1. Live and Online NEET Classes – All NEET preparation classes are live and interactive, means we do not provide any recordings. We do it real time on our whiteboard with inbuilt voice and camera feature. Such classes help you to interact with faculty in real time and enable discussion over the topic which is a necessity for NEET preparation. We do not entertain Skype calls etc. for NEET preparation classes. Our online whiteboard is integrated with camera and mic functionality to keep you at ease and make things formal.
2. NEET Study Material – To sincerely prepare for NEET in Kuwait we also help you with NEET study material both in Hard Copy and Soft Copy. Soft copy for NEET material is updated in your account immediately after the enrolment whereas we courier you the Hard Copy of NEET material at your home address in Kuwait. This study material will be used for all the NEET online sessions and discussed accordingly.
3. NEET Online Test – NEET Online Test Series will be provided to the students. This NEET Test Series will be made available to the students in their account on the website. To keep you stay updated with your performance we conduct regular NEET Online Tests and based on the performance your class schedule is altered. So that we work on the weaker areas first.
4. NEET Doubt Removal Sessions – Special NEET doubt removal sessions are conducted every month where students can bring all their doubts for clarification by the faculty. These sessions are included and clubbed together in all NEET courses. With this, you don't have to run around to get an answer to the question or an explanation of a concept.
5. NEET Revision Notes – We have made sure that whatever you have learned in class, you should be able to take it back along with you. So, we provide you with the recordings of all these classes directly in your account. You can download your past class from your account and revise it as many times as you want.
NEET Courses Starting in Kuwait On:
NEET NRI students who are planning to get admission in Medical Colleges in India through NEET can admission for NEET Coaching Classes in Kuwait on below-mentioned dates.
NEET Batches Starting In Kuwait:
| | | |
| --- | --- | --- |
| NEET Batches | Month (2019) | NEET Course Mode |
| NEET Prep - 1 Yr. & 2 Yr. | May - 18th & 23rd | Live & Interative Online |
| NEET Prep - 1 Yr. & 2 Yr. | Jun - 6th & 15th | Live & Interative Online |
| NEET Prep - 1 Yr. & 2 Yr. | Jul - 6th & 15th | Live & Interative Online |
| NEET Prep - 1 Yr. & 2 Yr. | Aug - 6th & 15th | Live & Interative Online |
| NEET Prep - 1 Yr. & 2 Yr. | Sep - 6th & 15th | Live & Interative Online |
| NEET Prep - 1 Yr. & 2 Yr. | Oct- 6th & 15th | Live & Interative Online |
| NEET Prep - 1 Yr. | Nov - 6th & 15th | Live & Interative Online |
| NEET Prep - Crash Course | Dec - 6th & 15th | Live & Interative Online |
| NEET Prep - Crash Course | Jan - 6th & 15th | Live & Interative Online |
| NEET Prep - Crash Course | Feb - 6th & 15th | Live & Interative Online |
NEET Faculties For You In Kuwait
All NEET aspirants want to study hard and ace the NEET test, we give our 100% but when it comes to the NEET faculty or NEET experts who are supposed to teach you further, is not qualified enough?
Having dealt with NRIs in Calfornia and students across the globe from major cities we found that students don't have access to the required NEET teachers who are qualified to be a NEET Test Expert. Over a period of time student's compromise with local tuition teachers or with school teachers, this results in achieving nothing.
When it comes to serious NEET medical preparation, you need a faculty who has trained NEET students in past, who knows about what you are preparing for, what is the paper structure, medical colleges you are targeting for, only then a faculty can help you for your NEET preparation in Kuwait.
To overcome this barrier we help students in Kuwait with the best of NEET faculties online, who have experience of more than 8 years and trained almost 1000+ students. They know the details to work on and areas to focus on your NEET prep. Your search for the NEET faculties in Kuwait will end here.
Locations in Kuwait where TestprepKart is offering NEET courses:
TestprepKart offers courses for NEET at the following locations:
Ahmadi

Farwaniyah

Jahra

Al Asimah
Students of following schools in Kuwait are preparing for NEET and many more exams with us:
CBSE:
Indian English Academy School

Indian Public School

Al-Amal Indian School

Indian Education School, Farwaniyah (Kuwait)

Al Rashid Indian School

Indian Community School, Kuwait

Delhi Public School, Ahmadi
NEET Coaching Classes FAQs:
Since many students prepare for NEET in Kuwait for obvious reasons of taking admission into top medical colleges in India by writing NEET. We often come across many questions which are listed below, We try to answer them all through email.
Q1. What are the NEET class timings during the day?
Answer: All NEET courses that we offer mostly run during evening time, typically after 6:00 PM (local time). This helps students manage their school activites alongside. Class timings are decided in accordance with the student availability, this bring no confrontation and easy course completion.
Q2. What are the NEET expert credentials?
Answer: We make sure that we have the best talent available for NEET classes. All the faculties aligned with us have experience of more than 5 yrs of NEET preparation classes and come from the top medical bodies like AIIMS, AFMC and other top institutes. Our NEET course faculties are experienced enough to understand student's level, this helps them in designing a plan for a better NEET Rank Card.
Q3. How much time will this course will generally take to finish entire NEET syllabus for Physics, Chemistry & Biology?
Answer: It depends, we offer NEET preparation courses for 40 hours, 60 hours, 80 hours & 100 hours. Student who are in grade 12th and preparing for NEET generally opt for 40 & 60 hours course as these courses focus on Q&A concepts. Whereas students who are in grade 11th opt for 80 and 100 hours, as these NEET course help students prepare for NEET from the concept level and slowly bringing it to advanced level.
Q4. What will be the class timings for these classes?
Answer: NEET preparation classes generally start from 6:00 PM and run until 11:00 PM (Local Time). NEET classes are live and interactive so students can attend the NEET classes while being at home only.
Q5. What will be the NEET class duration?
Answer: All classes are of 2 hours. 3 times a week and in some cases when NEET Practice test is organised, classes may run for 3 hours as well.
Q6. How my performance will be measured and analyzed for NEET?
Answer: Enrolled NEET students go through repetitive analysis sessions for Physics, Chemistry and Biology. Based on analysis they are guided further for getting close to top 2000 rank. NEET course includes online test series which prepares students well.
Q7. Are the classes run on one on one basis or its a group or batch classes?
Answer: We offer NEET classes in both models - One on One & Batch mode. In batch mode for NEET, we keep a group for 5 students from Kuwait only so that all have the same level and timings. In one on one class, only single student is aligned with the faculty and this NEET coaching in highly customizable.
Streams available for students with PCB as subjects in 11th and 12th. Students can opt for any of the below mentioned stream
Other Important Link:
Other Locations: