by October,09,2023
1 comments
6661 Views
NEET 2019 Registration Procedure
NEET is the only National Level Medical Entrance Exam which helps in providing admissions in various Top MBBS/BDS colleges in India and also in AYUSH Courses offered by Indian Medical Colleges. Apart from it, if you wish to go for AIIMS and JIPMER, then they have to give a separate entrance exam. If you wish to get admissions into Top Medical Courses in Abroad then he/she have to clear NEET 2019 UG Exam.
NEET 2019 Examination has been through a lot of changes this year by the newly formed Examination Authority known as National Testing Agency (NTA). NTA will be responsible for conducting all the Online Examinations in India from 2019 onwards. As per new notification released by NTA regarding NEET 2019 examination, it is clearly stated that the NEET 2019 Examination will be held once in a Year and it will not be an Online Examination. NEET 2019 will be carried out in Pen and Paper Based mode.
How to Apply Online for NEET 2019
The first step is to download the application form.
NEET 2019 online application forms are releasing on 1st November 2019. You may download them from the NEET official website. You will be competing with scores of other candidates for admission for an MBBS seat in private and Government Medical colleges on Pan India basis.
The forms are not complicated to fill up. You may seek assistance from your colleagues, seniors or teachers. Over 11 lakh students have appeared for last year's exam, and nearly half of them managed to get admission in different Medical colleges in India. Check the Important NEET 2019 Application Form Dates in the table given below:
Events

Important Dates

Online submission of Application Form

(uploading of photograph and signature)

01/11/2018-07/12/2018

Date for final transaction of fee

01/11/2018-08/12/2018

Through Card/Net-Banking Credit/Debit upto 11:50 p.m and through e-challan upto bank hours

08/12/2018

Fee Payable by the candidates

Unreserved

Other Backward Classes (OBC)*

SC/ST/PwD/ Transgender

Service/Processing charges and GST are to be paid by the candidate, by the applicable

Rs. 1400/-

Rs. 750/-

Rs. 750/-

Correction in particulars of Application Form on website only (No corrections shall be entertain under any circumstances after this date)

14/01/2019-31/01/2019

Admit Cards Printing from NTA website

15/04/2019

Examination Date

15/04/2019

Examination Time

02:00 p.m. to 5:00 p.m.

Examination Centre

As indicated on Admit Card

Display of recorded Answer Keys and responses for inviting challenges on NTA

website: www.nta.ac.in, www.ntaneet.nic.in

Date shall be displayed on the NTA website

Result Declaration on NTA Official website

By 05/06/2019



Registration Process for

NEET 2019 (

UG)
To apply the National Eligibility cum Entrance Test, you should follow the following steps.
List of Important Documents/material Necessary during NEET 2019 Application Form Registration:
Academic Documents:
Mark sheets of 10thStandard and 12th standard
Contact Details:
Other Important Documents:
Aadhar Card for Indian nationals.

Credit /Debit Card for the payment of NEET UG 2019 Application Fees

For making payment through E-wallet, Net Banking or UPI then you have to keep the login credentials in hand

Scanned Photograph & Signature in prescribed size and dimension

Check the prescribed dimension of Photo & Signature as follows

Passport Number

Ration Card Number

Bank Account Number

Government Identity Number for candidates belonging to the states of J&K, Assam and Meghalaya
(Passport will be considered a valid document for foreign nationals).
NEET 2019 Fees Structure
The candidates should bear the Online NEET Fee/Intimation Charges as follows.
For Unreserved /OBC: Rupees 1400/-.

For ST/SC/PH: Rupees 750/-.
Make Payment of Fee for NEET 2019 Application Form in Prescribed Modes like
By Credit Card/Debit Card.(this is the most common payment mode)

Net Banking/UPI

E-wallet
Reasons for rejection of application form
Incomplete or wrong application.

Wrong, delayed or incomplete payment.

If you've filled multiple NEET Forms with different IDs.

If your details of UIDAI data (Aadhaar Card) does not match with your filled data.

If you've exhausted your three attempts at appearing in the exam earlier.
Steps for Online Registration
Generate NEET Registration Number after clicking "New User Registration Here!".

You have to fill up Name, Contact Number, E-mail ID, Details of Father & Mother, Address, Landline Number, Category, Nationality, and State of Eligibility for 15% All India Quota and Identification Type in the respective fields correctly.

Identification Type (Aadhaar Card, Passport No., Self-Declaration for Assam, J&K & Meghalaya State candidates).

Medium of exam and exam e preference

Previous attempts in AIPMT/NEET.
You will receive NEET Candidate Login details - Registration Number and Password for future reference after successfully registering
Upload Photo and Signature
The next step is to upload scanned Photo and Signature. It is noteworthy that the Photograph & Signature should be in JPG format and their sizes should match the given values.(Passport Size PhotoSize should be between 10Kb to 100Kb.and Signature.Size should be between 3Kb to 20Kb.)
NEET Photo & Signature Requirements 2019:
1. Passport size photo should be with white background.
2. Name of the Candidate & Date of taking the photo must be in the Photograph.
3. Only recent sized Photograph (taken on or after 1st Jan 2019.) is acceptable.
4. The signature must be in running handwriting.
5. Signature other than running hand writing like block letters will not b accepted.
6. Don't use Polaroid or computer generated photograph for NEET Online Form.
7. De-shaped, manipulated, digitally edited or duplicated photographs will be rejected automatically by the system. The system will allow uploading of the photograph with one face only by using the face-detection technique.
After filling the NEET 2019 Online Application Form, you will receive NEET Candidate Login details - Registration Number and Password for future reference.
NEET Eligibility
Indian citizens, NRI's, Overseas Citizen of India, Persons of Indian Origin (PIO's) & Foreign Nationals are eligible for appearing in the NEET ENTRANCE TEST (UG), 2019.

The candidate must have completed the age of 17 years at the time of admission. Some relaxation is also possible as per NEET norms.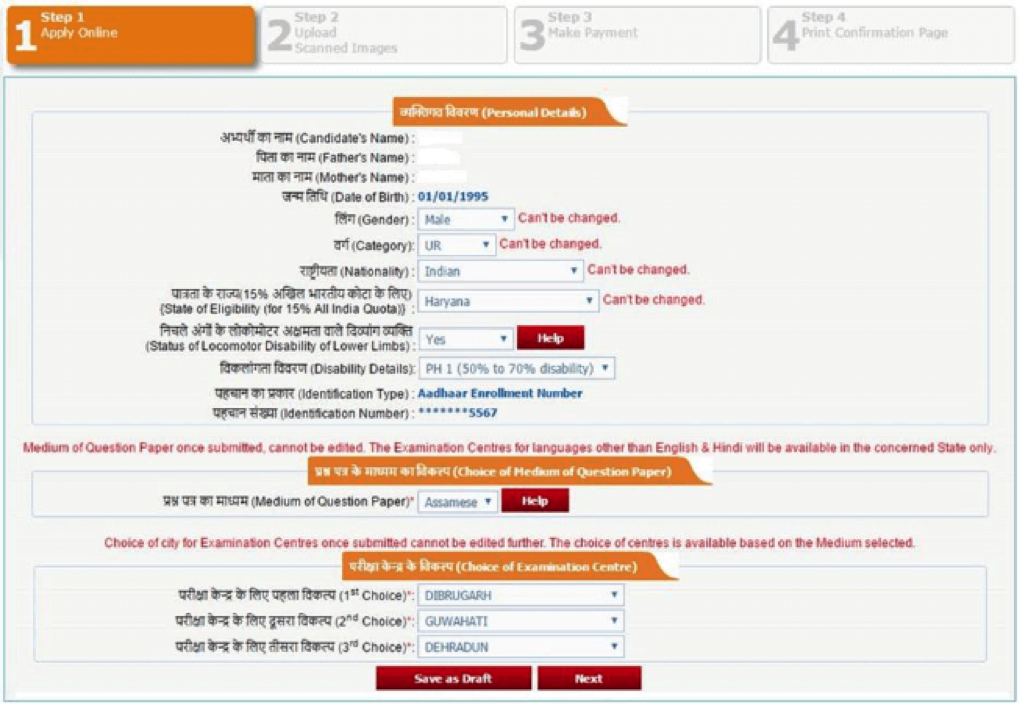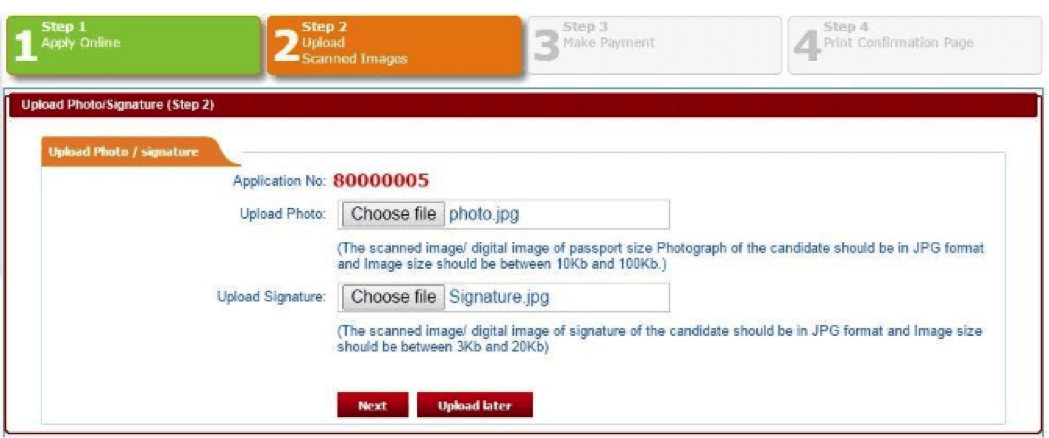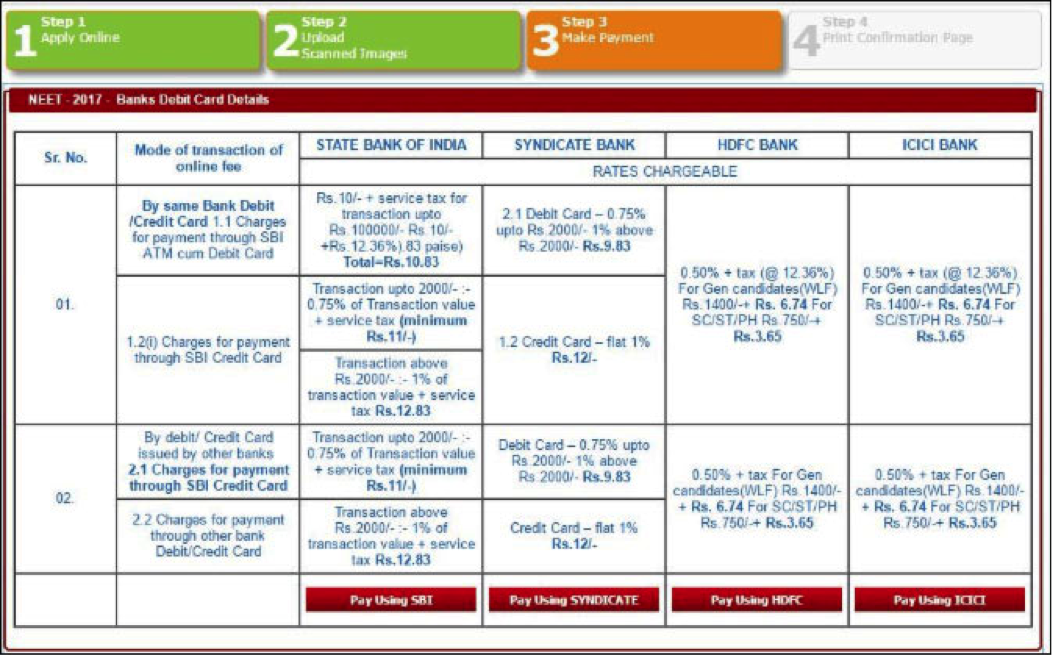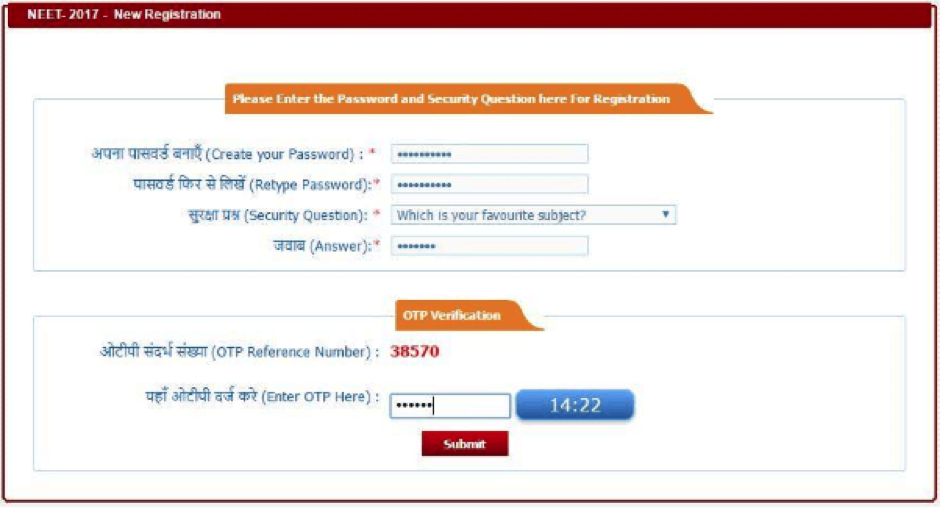 Check Our Some Other Resources for NRIs OCIs & PIOs.
NEET Coaching Program available for NRIs

/ OCIs & PIOs students
NEET 1 Yr. Course | View Course Details
NEET 2 Yr. Course | View Course Details
NEET Foundation Course | View Course Details
NEET Online Test Series | View Course Details
NEET Course Features Designed For NRIs / OCIs & PIOs
1. Live and Online NEET Classes – All NEET preparation classes are live and interactive, means we do not provide any recordings. We do it real time on our whiteboard with inbuilt voice and camera feature. Such classes help you to interact with faculty in real time and enable discussion over the topic which is a necessity for NEET preparation. We do not entertain Skype calls etc. for NEET preparation classes. Our online whiteboard is integrated with camera and mic functionality to keep you at ease and make things formal.
2. NEET Study Material – To sincerely prepare for NEET we also help you with NEET study material both in Hard Copy and Soft Copy. Soft copy for NEET material is updated in your account immediately after the enrolment whereas we courier you the Hard Copy of NEET material at your home address in. This study material will be used for all the NEET online sessions and discussed accordingly.
3. NEET Online Test – NEET Online Test Series will be provided to the students. This NEET Test Series will be made available to the students in their account on the website. To keep you stay updated with your performance we conduct regular NEET Online Tests and based on the performance your class schedule is altered. So that we work on the weaker areas first.
4. NEET Doubt Removal Sessions – Special NEET doubt removal sessions are conducted every month where students can bring all their doubts for clarification by the faculty. These sessions are included and clubbed together in all NEET courses. With this, you don't have to run around to get an answer to the question or an explanation of a concept.
5. NEET Revision Notes – We have made sure that whatever you have learned in class, you should be able to take it back along with you. So, we provide you with the recordings of all these classes directly in your account. You can download your past class from your account and revise it as many times as you want.
NEET Courses Starting On:
NEET NRIs / OCIs & PIOs students who are planning to get admission in Medical Colleges in India through NEET can admission for NEET Coaching Classes on below-mentioned dates.
NEET Batches Starting:
| NEET Batches | Month (2018) | NEET Course Mode |
| --- | --- | --- |
| NEET Prep - 1 Yr. & 2 Yr. | May - 18th & 23rd | Live & Interactive Online |
| NEET Prep - 1 Yr. & 2 Yr. | Jun - 6t & 15th | Live & Interactive Online |
| NEET Prep - 1 Yr. & 2 Yr. | Jul - 6t & 15th | Live & Interactive Online |
| NEET Prep - 1 Yr. & 2 Yr. | Aug - 6t & 15th | Live & Interactive Online |
| NEET Prep - 1 Yr. & 2 Yr. | Sep - 6t & 15th | Live & Interactive Online |
| NEET Prep - 1 Yr. & 2 Yr. | Oct- 6t & 15th | Live & Interactive Online |
| NEET Prep - 1 Yr. | Nov - 6t & 15th | Live & Interactive Online |
| NEET Prep - Crash Course | Dec - 6t & 15th | Live & Interactive Online |
| NEET Prep - Crash Course | Jan - 6t & 15th | Live & Interactive Online |
| NEET Prep - Crash Course | Feb - 6t & 15th | Live & Interactive Online |
NEET Faculties For NRIs / OCIs & PIOs
All NEET aspirants want to study hard and ace the NEET test, we give our 100% but when it comes to the NEET faculty or NEET experts who are supposed to teach you further, is not qualified enough?
Having dealt with NRIs / OCIs & PIOs students across the globe from major cities we found that students don't have access to the required NEET teachers who are qualified to be a NEET Test Expert. Over a period of time student's compromise with local tuition teachers or with school teachers, this results in achieving nothing.
When it comes to serious NEET medical preparation, you need a faculty who has trained NEET students in past, who knows about what you are preparing for, what is the paper structure, medical colleges you are targeting for, only then a faculty can help you for your NEET preparation.
To overcome this barrier we help students with the best of NEET faculties online, who have experience of more than 8 years and trained almost 1000+ students. They know the details to work on and areas to focus on your NEET prep. Your search for the NEET faculties will end here.
NEET Preparation Resources
| | | |
| --- | --- | --- |
| Physics | Chemistry | Biology |
| | | |
| | | |
| | | |
| | | |
| | | |
| | | |
| | | |
| | | |
| | | |
| | | |
| | | |
| | | |
| | | |
| | | |
| | | |
| | | |
| | | |
| | | |
| | | |
| | | |
| | | |
| | | |
| | | |
| | | |
| | | |
| | | |
| | | |
| | | |
| | | |
| | | |