Digital SAT
Reach Us 24x7: +91 - 8800 1234 92
About Digital SAT Exam
What is SAT Exam ?
The SAT, a standardized test presented in a multiple-choice question format, is administered by the College Board. Students undertake this test to gain admission to undergraduate programs, primarily in the United States and Canada. The full form of SAT is the Scholastic Assessment Test. Its purpose is to assess candidates' proficiency in written communication, verbal expression, and mathematical abilities. Until 2022, the SAT was administered as a pencil-and-paper examination. However, the College Board discontinued this format in 2023, ushering in a new era with the introduction of the SAT Digital Exam, which is currently in use.
The Scholastic Assessment Test was established in the year 1926 since then it has undergone regular amendments and changes. SAT is a standardized test in form of an entrance exam used for admissions (in UG Programs) in most US colleges and universities & also for a few universities in other countries. The SAT fee structure is varied and is in accordance with the country specified; it varies from US$52.5 to US$101.5. By assessing a student's school grades and SAT scores, he/she will be considered as a potential student for college admissions by College Board ETS (Educational Testing Service).
Digital SAT Exam Highlights
Exam Name
SAT (Digital)

SAT full form

Scholastic Assessment Test

Official Website

https://www.collegeboard.org/

SAT Exam Duration

2 hours 14 minutes

Most popular for

Undergraduate courses in the US and Canada

Conducted by

College Board

Mode of Exam

Online

SAT Fee for Indian Students

$60 + $43 +$18.54 = ₹10,075 (approx)

Score Range

on a 1600 scale point

SAT Contact Info

The College Board National Office
250 Vesey Street
New York, NY 10281
Phone: 212-713-8000
This college admission test is a Paper-based standardized test but according to the Colleg Board, the SAT Exam is going to be completely Digital from 2023 for International Students and in 2024 for US Students.

Digital SAT is conducted 7 times every year at the worldwide level in the month of March, May, June, August, October, November, and December but for US students, the number of attempts is limited to 5.

The knowledge skill of students is tested on the basis of the Critical Reading section, Mathematics section, and Writing section.

The SAT questionnaire is designed for the time duration of 3 to 4 hours but now the Digital SAT exam time is of 2 hours.

The Scoring system is based on a scale of 200 – 800 on each of the substituent sections (total of 400- 1600).

The range of scores varies from 200 to 800 on each of the two sections, i.e., you can get a minimum score of 600 and a maximum score of 1600.
Explore the SAT Course Book a Free Trail Session
Digital SAT English Section Exam Structure (Reading and Writing)
The Reading and Writing section contains 2 modules. There are 25 operational questions and 2 pretest questions in each module. The time duration for each module is 32 minutes. You will find the exam structure in detail in the table given below:
DIGITAL SAT EXAM STRUCTURE
Section
Reading and Writing

Test length

Module 1: 25 operational questions and 2 pretest questions
Module 2: 25 operational questions and 2 pretest questions

Time per module

Module 1: 32 minutes and Module 2: 32 minutes

Number of questions

54 questions

Total time

64 minutes
Digital SAT Mathematics Section Exam Structure
The Mathematics section contains 2 modules. There are 23 operational and 2 pretest questions in each module. The total time allotted for the Mathematics section is 70 minutes, with 35 minutes for each module. Now in the Digital SAT, the calculator has already been added to the SAT Exam Window so you can use the calculator any time during the Digital SAT Exam. You will find the exam structure in detail in the table given below:
DIGITAL SAT EXAM STRUCTURE
Section
Mathematics

Test length

Module 1: 20 operational questions and 2 pretest questions
Module 2: 20 operational questions and 2 pretest questions

Time per module

Module 1: 35 minutes and Module 2: 35 minutes

Number of questions

44 questions

Total time

70 minutes
When should I take the SAT?
The majority of high school students typically opt to take either the SAT, the ACT, or both in the spring of their junior year or the fall of their senior year. Allotting time for potential score improvement is crucial before submitting college applications. The SAT is administered nationally in August, October, November, December, March, May, and June each year. This schedule provides students with multiple opportunities to retake the exam if necessary. View all Digital SAT Exam upcoming Dates.
Digital SAT Exam Dates 2023 (International Students)
| | | | | |
| --- | --- | --- | --- | --- |
| Test Date | Registration Deadline | Deadline for Registration Changes and Regular Cancellation | Digital SAT Score Release Dates | Mode of Examination |
| Dec 2, 2023 | Nov 2, 2023 | Nov 21, 2023 | Dec 15, 2023 | Digital |

Digital SAT Eligibility
The SAT exam administered by the College Board does not have specific eligibility criteria for students intending to take the test. Here are key points regarding SAT eligibility:
Age Limit:
There is no specified minimum or maximum age requirement for individuals taking the SAT. While there is no age limit, it's observed that a significant number of candidates fall within the age range of 17 to 19.
Number of Attempts:
Unlike some standardized tests, such as the ACT, the College Board does not impose restrictions on the number of times a student can take the SAT. Candidates are free to attempt the exam as many times as they deem necessary. The SAT is conducted seven times a year in India, typically in March, May, June, August, October, and December.
Educational Eligibility:
The College Board has not established specific educational criteria for SAT eligibility. While there are no formal academic prerequisites, it is common for high school students to take the SAT. Those aspiring to pursue undergraduate studies abroad often take the SAT after successfully completing their high school education as part of the application process.
Digital SAT Registration
To appear for the SAT, students must undergo the registration process, which can be done either through traditional mail or a more convenient online method. Below are the steps for both online and mail SAT registration:
Online SAT Application Registration:
| | |
| --- | --- |
| Step | Action |
| 1. Visit the College Board's Official Website | Navigate to the official SAT website provided by the College Board. |
| 2. Create Your Account | Register for an account on the website, providing necessary personal details. |
| 3. Submit Required Details | Complete all the required fields in the registration form. |
| 4. Choose Exam and Test Center | Select the specific SAT exam you wish to take and choose your nearest test center. |
| 5. Upload Clear Photograph | Upload a clear photograph as part of the registration process. |
| 6. Pay Application Fee | Complete the registration by paying the required application fee through the online platform. |
SAT Registration by Mail (Steps):
| | |
| --- | --- |
| Step | Action |
| 1. Obtain 'The Student Registration Guide for the SAT and SAT Subject Tests' | Acquire the registration guide from schools, which includes a registration form and a return envelope. |
| 2. Complete the Registration Form | Fill out the registration form included in the guide. |
| 3. Include Demand Draft | Send the completed form along with a demand draft as specified in the guide. |
| 4. Mail to USIEF | The local representative of SAT in India is the USIEF (United States-India Educational Foundation). Mailed forms will be directed to their regional office. |
Digital SAT Slot Booking 2024:
For the upcoming SAT exams in 2024, it is crucial to consider the limited availability of seats at designated SAT Test Centers. To streamline the testing process and avoid unnecessary complications, candidates are strongly advised to proactively book their exam slots well in advance. To enhance convenience, it's recommended to locate an SAT center in close proximity to your home, ensuring a timely arrival on the scheduled test date.
How to Cancel Digital SAT:
Cancellation of the SAT comes with specific procedures and considerations. Candidates should be aware that, regardless of the timing of their cancellation, a full refund is not granted. If a cancellation is made at least 5 days before the test date, candidates are eligible for a partial refund of $10.
How to Postpone or Reschedule SAT Exam Date:
In situations where rescheduling becomes necessary, candidates can opt to do so by paying an additional fee. Rescheduling before the regular change deadline incurs a fee of $25, while rescheduling after the regular change deadline up to the test day carries a fee of $35.
Digital SAT Admission Ticket:
After successfully registering for the SAT, candidates must log into their account on the official SAT website to download the SAT Admission Ticket. This document is crucial for admission to the test center. It is imperative that candidates carefully verify the information on the admission ticket and rectify any discrepancies promptly to ensure a smooth testing experience.
Digital SAT Exam Fees:
Candidates planning to take the Digital SAT should be aware of the associated exam fees. The detailed breakdown of SAT exam fees in India is as follows:
The base fee for the SAT exam is $55.

In addition to the base fee, there is a Non-U.S. Regional Fee of $49 for students taking the SAT Test in India.
However, it's important to note that an additional fee of $18.54 is applied as part of the sales tax. Consequently, the overall fee for the SAT, including the sales tax, is $121.54.
SAT Cancellation & Rescheduling Fees:
Canceling a registered SAT exam entails costs, and it is generally advised for students to opt for a date change rather than complete cancellation due to the associated expenses. It's crucial to note that registrations cannot be refunded if canceled later than five days before the scheduled test day. In the case of cancellation, candidates are only refunded $10, regardless of whether they registered for the SAT or the SAT with Essay.
For candidates seeking to change their SAT Test Centre or Test Date, an additional fee of $30 is applicable to avail of these services. This fee is incurred to facilitate the necessary adjustments in test logistics.
These cancellation and rescheduling fees are important considerations for SAT test-takers, and candidates should plan any adjustments to their testing plans accordingly, keeping in mind the associated costs and deadlines.
| | |
| --- | --- |
| SAT Rescheduling Reasons | SAT Rescheduling Fees |
| Date/Test Centre Change Fee before regular change deadline | $25 |
| Date/Test Centre Change Fee after regular change deadline | $35 |
| Late Registration Fee | $30 |
| Register by Phone | $15 |
| Waitlist Fee | $53 |
Why opt for the SAT Exam in 2024?
Students aspiring to pursue undergraduate programs in the United States commonly take the SAT. While several U.S. colleges mandate the SAT for undergraduate admissions, there is a growing trend of some institutions adopting a test-optional policy or eliminating the SAT score requirement altogether. However, for international students applying to universities that still consider SAT scores, it is beneficial to weigh the advantages of taking the SAT and submitting the scores for admission:
The SAT is a multiple-choice question (MCQ) based exam that assesses students' proficiency in English and Math subjects. In the Math section, there are questions where students may need to provide answers without the aid of MCQ-type options.
The duration of the SAT exam has been shortened, now lasting only 2 hours and 14 minutes.

Furthermore, numerous schools offer SAT scholarship opportunities based on students' performance and scores.

Submitting SAT scores can enhance a student's application, allowing the admission committee to assess their skills effectively.

Moreover, students have the flexibility to take the SAT multiple times throughout the year, enabling them to improve their scores and enhance their performance with each attempt.

Compared to the ACT, the SAT provides 43% more time for answering questions, and there is no penalty for unanswered or incorrect responses.
Syllabus for the Digital SAT Exam
The Digital SAT Exam in covers topics that students have encountered in their school curriculum throughout the years. Proficiency in school studies should adequately prepare students for the SAT exam syllabus. The key components of the SAT syllabus are outlined as follows:
SAT Reading & Writing Section:
Craft and Structure

Information and Ideas

Standard English Conventions

Expression of Ideas
Math Section:
Algebra

Advanced Math

Problem-Solving and Data Analysis

Geometry and Trigonometry
What Is a Good SAT Score?
A good SAT score is subjective and can vary depending on the specific colleges or universities to which you're applying. SAT scores are typically reported on a scale ranging from 400 to 1600, combining scores from the Evidence-Based Reading and Writing (EBRW) and Math sections. The optional Essay section is scored separately.
Here's a general breakdown:
Total SAT Score (EBRW + Math):

Excellent: 1500 and above
Good: 1300-1490
Average: 1050-1290
Below Average: Below 1050
It's important to research the average SAT scores of the specific colleges or universities you are interested in, as different institutions may have different expectations. Some highly competitive schools may expect scores in the upper range, while others may consider a broader range of scores during the admissions process.
Additionally, other factors such as your high school GPA, extracurricular activities, letters of recommendation, and personal essays also play a crucial role in the college admissions process. SAT scores are just one part of a holistic evaluation.
SAT eBook
It is very important to know minor to major facts when starting your preparation for an aptitude-based exam like SAT, with updates that can help with your SAT preparation.
We are pleased to announce the release of TestprepKart's free SAT study guide for the new SAT. This free SAT ebook gives you everything you need to know about the test, from content to content mastery, among the top practice goals you need.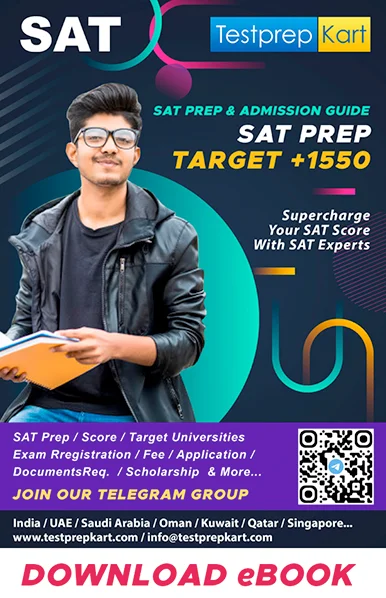 Frequently Asked Questions (FAQ) - Digital SAT Exam
Q1. What is the Digital SAT Exam?
Ans. The Digital SAT Exam is a standardized test designed to assess college readiness in reading, writing, and math. It has transitioned to a digital format to enhance the testing experience.
Q2. Why has the SAT transitioned to a digital format?
Ans. The transition to a digital format aims to provide a more streamlined and efficient testing experience for students. It aligns with the changing technological landscape and allows for faster score reporting.
Q3. What are the key components of the Digital SAT Exam?
Ans. The Digital SAT Exam assesses skills in reading, writing, and math. It includes multiple-choice questions, grid-in questions, and an optional essay section.
Q4. How do I register for the Digital SAT Exam?
Ans. To register for the Digital SAT Exam, visit the official College Board website (insert link). Follow the registration process outlined on the site.
Q5. Can I still take the SAT on paper, or is it only available in a digital format?
Ans. While the SAT has transitioned to a digital format, there are still opportunities to take the test on paper. Check the College Board website for information on test formats and availability.
Q6. What do I need to bring to the test center for the Digital SAT Exam?
Ans. Be sure to bring an acceptable photo ID, your admission ticket, No. 2 pencils, and an approved calculator. Refer to the official SAT guidelines for a complete list of required items.
Q7. Is there a specific software or app I need to install for the Digital SAT Exam?
Ans. The Digital SAT Exam uses secure and user-friendly software. Detailed instructions will be provided on test day, and there is no need to install any additional software beforehand.
Q8. How are digital scores reported, and when can I expect to receive them?
Ans. Digital SAT Exam scores are typically available within a few weeks of completing the test. Scores are accessible through your College Board account, and you will receive an email notification when they are ready.
Q9. Is there technical support available during the Digital SAT Exam?
Ans. Yes, technical support will be available at the test center to assist with any issues related to the digital format. If you encounter technical difficulties, notify a test center staff member promptly.
Q10. Can I practice for the Digital SAT Exam online?
Ans. Yes, the College Board provides official practice materials and a digital practice platform to help students familiarize themselves with the digital format. Access these resources on the official website.