On

December,09,2022

1 comments
2008 Views
SAT Preparation for IB Students
Understanding all the aspects of an IB student preparing for the SAT exam.
International Baccalaureate is nothing like any exam you take as an international or Indian student, but more focused on what the student wishes to study. SAT on the other hand is a totally different exam, but can come in handy for an IB student.

Difference between SAT and IB
Why IBDP students should give SAT in 1st year?
Does IB help in taking the SAT?
How difficult will SAT be for IB students
Best performing strategies
Time required by IB students to prepare for SAT
About SAT services
FAQs
Difference SAT and IB
The types of questions and patterns for IB are totally different as compared to the SAT. This is how:
SAT Exam

IB Curriculum

Standardized multiple choice questions test, helping students for increasing their chances in university admissions.

IB helps in reading comprehension, and writing, Mathematics, and science.

SAT and ACT give students specific choices on the correct interpretation of a text

Slightly different skills and preparation for reading and text comprehension. IB emphasizes a much more analytical approach where students address a text through an essay format.

SAT/ACT focuses on the fundamentals of English and Mathematics in particular.

IB tests are much more specialized and advanced knowledge of specific subject areas.

SAT covers basic knowledge for the SAT Math section, mainly up to Algebra II. The types of questions they ask and the time allocations can be quite different, so it's always a good idea to take a few practice tests.

IB includes separate sections for Mathematics at moderate and difficult levels, wherein the syllabus might go from basic to advanced level.

SAT/ACT tests are broader and skills gained throughout a student's educational career.

IB tests acquire knowledge and understanding of specific fields.

Example:

SAT asks the students to understand how to use semicolons.

Example:

Core Grammar is not covered in English A classes.
Why IB students should give SAT during the 1st year of their Diploma?
Many times students appear for IB for a better understanding of concepts and chances for admission abroad. While the same purpose is served by appearing for SAT, however, recommended being through with it during their first year. Here are some reasons why:
You will have the chance to retake the SAT exam with an idea of what SAT exam is.

You will eventually perform better, as the pressure in the first year is less as compared to the final year of the diploma.

The SAT exam opens up gates for admissions to American Universities.

You can analyze your performance, that is, a good SAT score means you have good control of the required syllabus, however, a moderate or bad score can lead to an eye-opening experience, and help you work on your weaker sections.

SAT is quite different from the IB, which can be another experience for standardized tests.
Does IB help in taking the SAT?
Considering IB as a curriculum that follows a few international learning aspects, the following can be the advantages the students can have while preparing for SAT and IB altogether:
Students who opt for Math HL or SL can have a good idea about the concepts required for the SAT preparation. With good practice, SAT Math section can be cracked quite easily.

IB does give students a good hand while preparing their Essays for the final diploma assessment, which can be considered an asset for SAT Essays, which is optional.

The students will have a better understanding of the English reading and writing passages, as their English curriculum might not include the exact syllabus, but prepare them partially for the SAT English sections. With practice, English sections might not be as difficult.
"SAT and IB should be considered at their own pace and should appear for these examinations with your own time"
How difficult will SAT be for IB students?
IB is a rigorous curriculum on its own, however, a few challenges could be:
With someone who hasn't opted for SAT Math could face a little challenge in their SAT Math preparation.

The syllabus for both might differ, which would require to give a little more time for preparation, as compared to someone from a different curriculum.
Features of TestprepKart's online preparation courses:

SAT eBook:
It is very important to know minor to major facts when starting your preparation for an aptitude-based exam like SAT, with updates that can help with your SAT preparation.
We are pleased to announce the release of TestprepKart's free SAT study guide for the new SAT. This free SAT ebook gives you everything you need to know about the test, from content to content mastery, among the top practice goals you need.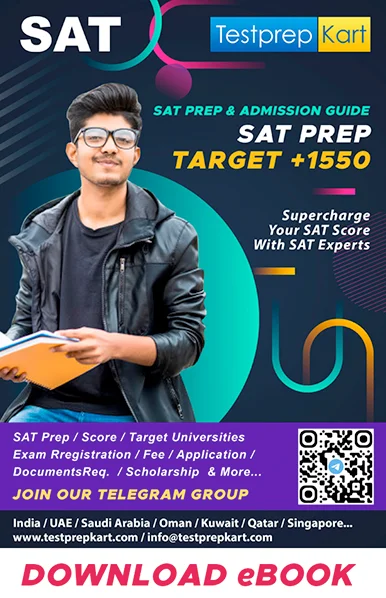 FAQs
Q. Should you take the SAT if you are an IB graduate?
Ans. Being an IB graduate does make your application a little different, however, with a good SAT score, the universities specifically in the US might consider the admission applications, as IB is better known for UK admissions.
Q. How is the IB curriculum for taking the SAT exam?
Ans. IB curriculum is likely to be different than that of the SAT, however, the students who opted for mathematics would be seen as more comfortable and familiar, as most of the content has been covered.
It might also give an edge in understanding the verbal sections better and also in case of the essay writing.
Q. How much practice would be required for an IB student to prepare for SAT?
Ans. It is best to consider both IB and SAT separately, and one must take a good amount of time to prepare for either of them.
Q. Is IB better than SAT?
Ans. SAT and IB are two different examinations, that come with their own pros and cons, however, students who give their SATs even when they are studying from the IB curriculum, have better college applications to submit, as they are both challenging examinations on their own.
Q. How can I get 1600 on the SAT?
Ans. With the right amount of practice and conceptual understanding, one can achieve the perfect SAT score.
Q. How much SAT practice should I do a day?
Ans. If you are a fresher, just starting with your SAT preparation, a minimum of 2 hours for each section would be a good starting point. However, this also depends on the remaining time left until the final SAT exam.
Q. What grade should you start preparing for the SAT?
Ans. An international student should start their SAT preparation from class XI and be done with the SAT exam, a maximum of 6 months before completing high school in order to be ready to apply for college admissions.
Q. How many times can I take the SAT?
Ans. A student can appear for the SAT as many times as required, however, for a good impression in your college applications, 2 attempts should be more than enough for getting to your required score.
Q. How many months should I prepare for SAT?
Ans. A minimum of one month of preparation for SAT is recommended for a good SAT score.
Q. How do I make a study plan for IB?
Ans. Based on the selected subjects, and if you wish to appear for the SAT, the IB study plan should include the weakest subject to be covered on a daily basis, while particular hours must be dedicated to SAT preparation as well.