SAT Preparation for CBSE Students
Preparation for the Digital SAT can be a challenge for students studying from different curriculums, however, with challenges come advantages in getting a better score, and better techniques to appear for the exam.
In this blog, we will be covering most aspects and most asked questions by students as well as parents, when it comes to Digital SAT preparation for CBSE students.

QnA for CBSE students willing to appear for the SAT
Syllabus between CBSE and SAT
How difficult will SAT be for CBSE students?
Best time for CBSE students to appear for SAT
Strategies for performing better
Time required by CBSE students to prepare for SAT
About TPK services
Most Asked Questions for SAT preparation
Top Questions Asked for CBSE students preparing for SAT:
Q. Is SAT tough for Indian students?
Ans. SAT is considered more tricky than tough, for Indian students.
Q. Is one month of preparation enough for SAT?
Ans. SAT One month of preparation mostly involves more practice and could be a good enough time for someone who has a clear enough basic conceptual understanding of the topics.
Q. Which board is best for SAT exam?
Ans. SAT being an International level examination, ICSE is known to have an upper hand as compared to CBSE, as the syllabus is of a higher standard, similar to that of the SAT.
Q. Do SAT toppers get scholarships?
Ans. SAT does come up with many options for scholarships, for students scoring higher than a minimum of 1300, however, a few universities do share a good scholarship opportunity for students securing a perfect or higher SAT score.
Q. How much does SAT cost in India?
Ans. The minimum cost of SAT in India is approximately INR8,200 (USD109) inclusive of the regional charges. However, SAT Fees are applicable in some scenarios even after the score is released.
Q. What's a good SAT score in India?
Ans. Securing anywhere above 1300/1600 makes you eligible for good scholarships through SAT, in Indian as well as International universities.
Q. What is the average Indian SAT score?
Ans. The average SAT score is around 1000.
Q. Is 3 months enough to study for SAT?
Ans. Yes, a good enough time to prepare yourself with concepts as well as practice for the SAT.
Q. How do I prepare my child for the SATs?
Ans. One must take the Free SAT Performance Analysis Session offered by TestprepKart and based on the results, prepare a schedule for facing the SATs with the industry experts, through online SAT tutoring(if necessary).
Q. Which month of SAT is the easiest?
Ans. It depends on the preparation for a student to appear for the SAT, however, the month of March and August are considered to be the best times to appear for SAT, as students get a good amount of time to prepare.
Q. How many hours a day should I study for the SAT?
Ans. A minimum of 2 hours, 6 days a week, and appearing for a 3-hour test on the seventh day, could be considered good practice for the SAT.
Q. How do you get 1500 on the SAT?
Ans. For a 1500 score, one must have at least 48/52, 41/44, and 55/58 in the reading, language and Math sections respectively.
Q. When should I give SAT in India?
Ans. It is recommended that one should be through with their SATs by December (max) of their final high school year, which makes the March and August attempt most appropriate to appear for SAT, as this gives a good time to prepare in the case for 2nd attempts.
Q. Where can I give SAT in India?
Ans. You can always check the test centers while registering for the SAT to appear anywhere within India (selective centers in select cities).
Q. Is CBSE syllabus enough for SAT?
Ans. The syllabus for CBSE can surely help you with your SAT preparation, however, it is advisable to connect with industry experts, whenever given the chance to understand the strategies to appear for this exam.
Q. Can a CBSE student crack SAT?
Ans. With a good amount of practice and a grasp of conceptual knowledge, one can do good in their SATs through the CBSE curriculum.
Similarities and Differences in Syllabus between CBSE and SAT
The basic syllabus for SAT includes: English and Mathematics
SAT English:
The Reading and Writing Sections involve understanding the passages and answering the questions, which are mostly considered evidence-based questions. Such questions follow a variety of interpretative question ("Why . . . ?", "What . . . ?", and so on), and is phrased in a similar manner. The correct answer to the current question will is related to the answer to the upcoming question, that is, the choice to find the right answer is from the passage itself.
No outside knowledge is necessary, except for understanding and decoding the passages to answer the questions.
SAT Mathematics:
In the CBSE curriculum, not many students opt for Mathematics during their final years of high school. But a good amount of practice and understanding the concepts can help in facing the Digital SAT Mathematics section.
CBSE does have complex questions asked during the Board examination, while the main focus for SAT Mathematics is for analyzing a student's analytical and problem-solving skills in the given time period and resources.
The common topics for Mathematics include:
| | |
| --- | --- |
| Heart of Algebra | Problem Solving and Data Analysis |
| Passport to Advanced Math | Additional Topics |
How difficult will SAT be for CBSE students?
For CBSE students, the possible challenge could be more for English as compared to Mathematics. Why? Here are the possible reasons:
The concepts for SAT English are evidence-based reading and writing, which can involve little complex words or vocabulary involved, which are different from the English syllabus for CBSE.

CBSE includes Literature and grammar equally for the board examination, while in Digital SAT, the syllabus involves decoding the passages, in terms of punctuation and grammar for the writing section, while understanding the comprehension for the Reading section, which is more evidence-based.

English not being the native language for most of the students, could be one of the challenges, in preparing for the SAT English section.
SAT Mathematics comes with its advantages and disadvantages. The students who do not opt for Mathematics during their final high school years will have to put in extra effort just to prepare for the SAT, along with keeping pace to answer the questions.
"Not tough but definitely trickier and little challenging, SAT for the students from CBSE"
Best time for CBSE students to appear for SAT
CBSE board examinations, for class XII are conducted in the month of March or April of their passing year, therefore, a student should be done with their SATs the year before their board exams.
If a student is through with his/her Digital SAT exam maximum by December, they can easily apply for colleges as well as focus on their board examinations.
However, based on the selective college admission process to start, it is much more advisable to achieve the targeted score in Class XI, at an anytime feasible throughout the year, as this gives you an opportunity to apply for early acceptance or early decisions, if applicable, to the college or university you further wish to study in.
How can you perform better in your Digital SAT?
On connecting with the SAT 1550+ scorers, some of the tips for upscaling your SAT scores can be:
Prepare a range of the score you wish to achieve

Take the SAT at least twice, before completing high school.

Analyze the test results from your first attempt to understand your weaker sections.

Prepare your study schedule.

Practice as much as you can, to understand problem-solving methods, and also improve your pacing techniques.

Follow the strategy to score a minimum of the required score.
If you think you are late for applying for another Digital SAT attempt and have only one attempt, nothing to worry about.
TestprepKart brings you a FREE SAT Performance Analysis Session, at your doorstep to help you analyze your weaker sections and the best techniques on how to improve your score.
Time required by CBSE students to prepare for Digital SAT
A minimum of 2 months of Digital SAT preparation is recommended, with more practice involved, which can help a CBSE student achieve the required score if the student is in Class XI or XII.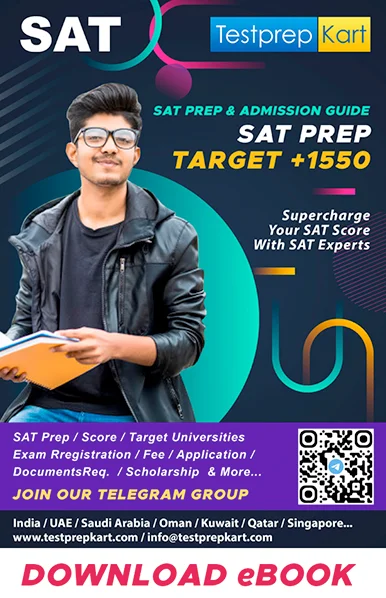 TestprepKart's preparation for SAT