On

December,15,2022

0 comments
2004 Views
Do you feel it's too late to prepare for the SAT at the final time? Well, it does feel that way but with consistency and the right guidance, one can prepare for their boards, as well as the required entrance exams altogether. All you need is the right platform to guide you, and plan to achieve more.
In this blog, we will cover a few aspects of SAT Preparation for students of class 12.
Courses for Digital SAT Preparation in Class 12
If you are preparing for the upcoming Digital SAT Exam, then some of the Digital SAT Exam aspects should be clear in your mind like the exam pattern, exam mode, syllabus, etc. You can prepare for the same by yourself and can score, but TestprepKart provides you with the best Online Courses for your Digital SAT Exam.
The TestprepKart 72 and 90 hours Courses are specially designed for Class 12 students.
Get Exam Prep Help Connect With a Counselor
Syllabus similarities between Class 12 and Digital SAT Syllabus
Considering Indian or International students, many students who appear for the SAT may or may not have Math as a common subject, however, this gap can be rectified with the right guidance and a good amount of practice.
SAT Math: For SAT Math, the basic concepts from classes 11 and 12 can play a vital role while preparing for the SAT. The students reappearing or going for the SAT as their first attempt can have a better hold of the Math section as they are thorough with the concepts in a deeper manner, compared to the students from class 11.
SAT English: There is no specific syllabus for the SAT English Reading and Writing section, but the difficulty can be observed while understanding the passages and answering based on evidence-based paragraphs. With the right amount of practice, the students can achieve the perfect score in English as well.
The preparation for SAT requires the students to practice as much as they can, and with the right strategies and pacing techniques.
Which is the best time to appear for Digital SAT in class 12?
Initially, it is considered best to appear for the Digital SAT exam twice while in high school for better scoring options. However, when it comes to class 12, it depends on the intake the student has been looking for.
It is best to keep all your required scores ready to submit by the December attempt, as this can open your options for spring and fall intake next year, and avoid any year gaps.
In class 12, who has an advantage over SAT: CBSE or IB students?

Is it possible to appear for the SAT after class 12?
College Board does not have any particular eligibility requirements or age criteria for appearing for the SAT exam. The students mostly appear for the SATs in their class 11th, 12th, or the year next, keeping the age criteria to be around 17 to 19 most of the time.
Once you are through with your class 12th, you can appear for the SAT can explore your options for studying abroad based on the scores.
Best practices to start preparing for your SAT exam:
1. Take a full-length practice test and analyze the score based on the required target university score.
2. Schedule your preparation based on the analysis and the date for your final SAT exam.
3. Connect with the SAT experts, as in crucial times like these, help from resources can help you upscale your preparation tactics.
4. Practice as much as you can. Try to follow techniques to solve the answers in the exams more efficiently.
Features of TestprepKart's online preparation courses:

SAT Test Centers Qatar
| | |
| --- | --- |
| Schools | Code |
| Al Manar Intl Sch | 52-622 |
| Qatar Sci + Tech Sec Sch for boys | 52-626 |
| Dps Modern Indian Sch Doha | 52-624 |
| Qatar Foundation | 52-612 |
| Qatar University | 52-623 |
| The Gulf English Sch | 52-611 |
| The Intl Sch of Choueifat | 52-615 |
| American Sch Of Doha | 52-619 |
| INTL Sch Of London Qatar | 52-605 |
SAT eBook
It is very important to know minor to major facts when starting your preparation for an aptitude-based exam like SAT, with updates that can help with your SAT preparation.
We are pleased to announce the release of TestprepKart's free SAT study guide for the new SAT. This free SAT ebook gives you everything you need to know about the test, from content to content mastery, among the top practice goals you need.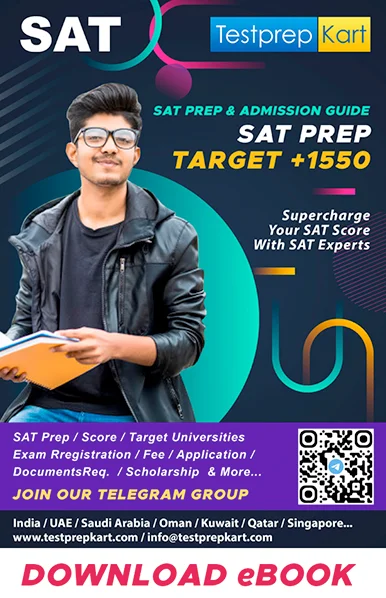 SAT Preparation Online FAQs:
Answer: Technically one can give the SAT unlimited times. We would suggest you give your first SAT as soon as possible. And if you don't get the desired score, try the next SAT Test whenever you feel you are ready but plan your SAT Test dates well in advance and join SAT Online Course seriously.
Answer: Everyone has the ability to improve, and you want your SAT score to match your potential so that you can get into the best possible schools. Yes, you should definitely prepare for the SAT.
Answer: The Preliminary SAT or PSAT is a practice version of the SAT. This exam also helps you get scholarships. But PSAT can only be given once a year and it's a 2 hours and 45 minutes test. If you are looking to get a scholarship for your college and also to get familiar with SAT, then start your SAT preparation by enrolling in any online SAT prep course.
Answer: You should start your SAT preparation somewhere in high school sophomore year. Because in this way your senior year will be freed up for college application.
Answer: There's nothing like the best time for anything. But you should plan your first SAT before junior year and the second SAT in the fall of junior year.
Answer:
The following are the reasons for taking the SAT:
Most of the Colleges Require SAT Scores.
Some of the Scholarships require your SAT scores.
Some employers require SAT scores.
The SAT Is Taken at a Slower Pace compared to the ACT.
Answer:
SAT math topics are as follows:
Heart of Algebra
Problem Solving and Data Analysis
Passport to Advanced Math